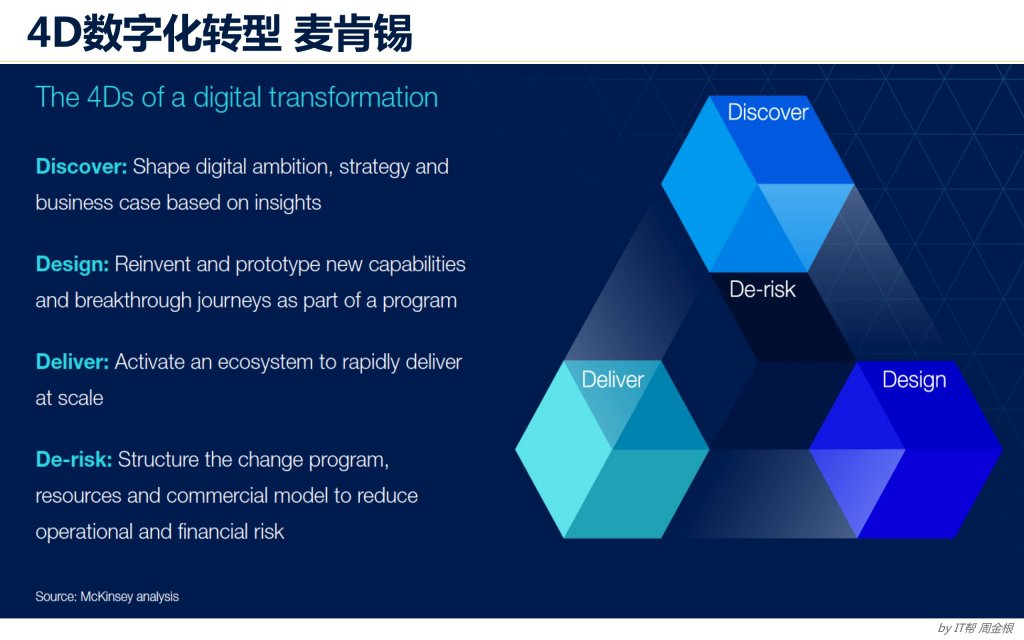 1. Discover: Shape your digital ambition, strategy, and business case
In this phase, companies develop a clear view of where value is being created and destroyed as the basis for a clear business strategy. That requires an analysis of their business, sector, customer behavior trends, and the larger economy to identify and quantify both threats and opportunities. These kinds of digital opportunity scans should be sorted by short- and long-term pockets of value.
At the same time, companies need to engage in a sober analysis of their own digital capabilities and resources. Capabilities that build foundations for other key processes and activities (e.g. modular IT and agile technology platforms) are particularly important. And while leadership matters, our DQ™ research has shown that mid-level talent is the most critical element for a company's digital success.
With this understanding in hand, companies then determine what their strategic ambition is, whether re-tooling the existing business or something more radical, such as plunging into a new market or innovating a business model. They develop a detailed roadmap for addressing capability gaps, and recruiting, developing, incentivizing and retaining the necessary talent. The goal is to develop a tight business case for change based on facts.
2. Design: Create and prototype breakthrough experiences
Actually acting on a digital ambition can be daunting. We have found that the most successful companies start by focusing on the most important customer journeys, then work back from there to design and build out breakthrough customer experiences. Using design thinking and skills, these companies define each journey, looking especially for the pain points and potential missed connections. The change team can then map out, screen-by-screen, models for a new interface.
In this phase, the company must avoid getting caught in endless rounds of planning but instead rapidly build prototypes, translating concepts into minimum viable products (MVPs) to test and iterate in the market before scaling.
This phase also includes building out rapid delivery approaches and an IT infrastructure that blends the legacy systems with micro-services and modular plug-and-play elements). While agile IT has become standard, more digital businesses are embracing DevOps (integrated development and operations teams) and continuous delivery so that software can be developed, tested, and deployed quickly to consumers and end users.
On the organization side, the fluid nature of cross-functional collaboration, rapid decision making, and iterative development means that the business should focus on the enablers for this kind of teamwork. This includes effective metrics and scorecards to evaluate digital performance and incentive structures to drive the right behaviors, mindsets and outcomes. The CDO at one multinational pharma company addressed this issue by establishing a Digital Council, which was tasked specifically with breaking down organizational silos to enable transformational change across all business lines. The initiative was credited with significantly contributing to a 12 percent increase in sales.
3. Deliver: Develop a network of partners who can rapidly scale your ambition
Getting the speed and scale necessary for a reinvention increasingly requires an ecosystem of external teams, partners, suppliers and customers. In practice, this means working with a mix of platform players, delivery specialists, and niche players. These are the relationships that companies can call on to provide specific skills and capabilities quickly.
This reality has made ecosystem management an important competency, especially understanding how to find and plug into the right mix of complementary capabilities. One national bookseller, for example, built out a digital offer by partnering with a telecoms company for its technology and with a range of retailers to build up a marketplace. This approach allowed it to rapidly hit the marketplace and increase revenue 78 percent in a year.
As companies push to scale their digital reinvention throughout the organization, the crucial role of seasoned change managers comes into focus. These leaders not only play "air traffic controller" to the many moving parts, but also have the business credibility and skill to solve real business problems. They must maintain an accelerated pace of change, and drive accountability across the business. The change leaders will look across the entire enterprise, examining organizational structure, data governance, talent recruitment, performance management, and IT systems for areas of opportunity, making decisions that balance efficiency and speed with outcome.
The "agility coach" is an example of this type of role. This person has strong communication and influencing skills, can create and roll out plans to support agile processes across the business, and can put in place KPIs and metrics to track progress.
4. De-risking: structuring the process to minimize risk
One of the most common reasons digital transformations fail is that the organization develops "change exhaustion" and funds start to dry up. To mitigate this risk, it's important to focus on quick wins that not only build momentum but also generate cost savings that can be re-invested in the next round of transformations. One global e-tailer, for example, focused on quick wins (such as increasing conversion rates) and was able to deliver $350 million in new revenue in just five months, which funded further changes and provided tangible results to further excite the business about the journey. This sequencing approach applies to tech as well. Many companies choose to invest first in "horizontal" components, such as business-process management (BPM) layers or central administration platforms that can be shared across many initiatives, while balancing them with more "visible" elements to provide the proof of concept.
Technology risks, especially cyber security, will also require increased attention as companies digitize more operations and processes. Organizations can mitigate these risks by automating tests on software, establishing systems in which failures can be rolled back in minutes, and establishing build environments in which fixes can be made without putting significant parts of the business at risk. Senior leaders in particular need to focus on the structural and organizational issues—from building cybersecurity into all business functions to changing user behavior—that hamper the ability to manage cyber risk.
One risk senior leaders often overlook is losing ownership over sources of value. These might include the company's data, customer relationships, or other assets. Having a clear understanding of where the value is coming from allows businesses to navigate ecosystem relationships profitably. In evaluating which partners to work with, the book seller mentioned above, for example, declined to work with a storefront partner because it feared losing its most valuable asset: its direct relationship with its customers.